A Fine Spot For Tea WTO (id:#62555)
Designer: George Kelln
Starter kit scenario?: Deluxe scenario?:
Balance:

Overview:
During the morning, Kampfgruppe von Maltzahn had captured Erp, after which it continued its advance, and soon established itself on two miles of Hell's Highway, immediately northeast of Veghel. Confusion reigned in Veghel as the streets were choked with cumbersome and heavily laden vehicles; many of with convoy commanders killed or stranded the other side of the Germans. With no troops for piqueting the route or to act as escorts, many vehicles were left to fend for themselves. Just north of Veghel, an anti-aircraft unit of the Guards Division had pulled over and brewed up some tea, waiting for the road to reopen. At 11:00 hours, Major von Maltzahn launched the final phase of the attack by advancing toward Veghel and its bridges. A detachment of Panthers, supported by halftrack-laden grenadiers, rumbled into the village, to the astonishment of the British gunners, who dropping their cups of tea, scrambled to unhook their guns and get them into action. The Americans, who had earlier passed by the British, heard the gunfire and hurried back. The lightly armed paratroopers were on their own to face the Germans and hastily set up a defensive line at the southern end of the village and waited for the approaching Germans.

Attacker: German (Elements of 107.Panzerbrigade)

Defender: American/British (Elements of British 123rd AAA Regiment and US 2nd Battalion 506th PIR)
4 turns
Players:
2
OBA:
None
Night:
No
Unit Counts:
Squads: A:

3.0

D:

4.0
AFVs: A:7

SPW 251/1

x 3

SPW 251/21

PzKpfw VG

x 3

D:0
Guns: A:0 D:3
| | |
| --- | --- |
| Misc Rules: | Cloaking, Ammo Vehicle |
Errata (source)
Players wanting to play this game/Request a match:
Scenario info
Last Played:
Date
Reporter
Opponent
Result
Comments
2018-11-03
(D) Jeff Waldon
vs
Will Willow
American/British win
VASL
2018-11-03
(A) Will Willow
vs
Jeff Waldon
American/British win
VASL
2015-12-27
(A) Michael Dorosh
vs
Colin Emerson
American/British win
Interesting scenario, lots of close-in combat. Unsure of balance but like all small scenarios, careful pre-game planning probably pays off. Plenty of weird happenings in this one, highlighted by a deliberate immobilization of a Panther on the main street, followed by Colin hooking up his AA and driving to unload it immediately behind - and having the truck destroyed by the AAMG. Also very good luck with the mortar, blowing up two full halftracks. Not sure if the exit requirements for the Germans are realistic but can only trust George's playtesters had a better plan than me!
2015-12-27
(D) Colin Emerson
vs
Michael Dorosh
American/British win
Very small,tight play area with serious terrain to contend with.
The Panthers are tough to deal with, all I could do was attempt to immobilize or try to shoot the exposed commander. Side hits were hard to line up.
Deliberate immobilization attempt stopped one in the narrow village roads...6 VP stranded.
The remaining Germans flanked left and right with one Panther breezing his way off the board. The other flank bogged down and the mortar with a leader spooting on the second floor of the Café came into action. A half track was stunned then pounded into oblivion destroying all troops inside.
Seems like very little room for error, might be that you just have to rush with everything and drive past all units. Tough but fun
| Action | Date |
| --- | --- |
| hoxson1 Modified the Theatre | 2021-03-08 17:26:28 |
| hoxson1 Modified the overlays | 2020-10-26 17:31:54 |
| wwillow Added a playing | 2020-07-09 23:12:08 |
| CavemanBrooks Set the designer field | 2019-07-18 08:52:59 |
| jrwusmc Added a playing | 2018-11-03 08:22:29 |
Location
Images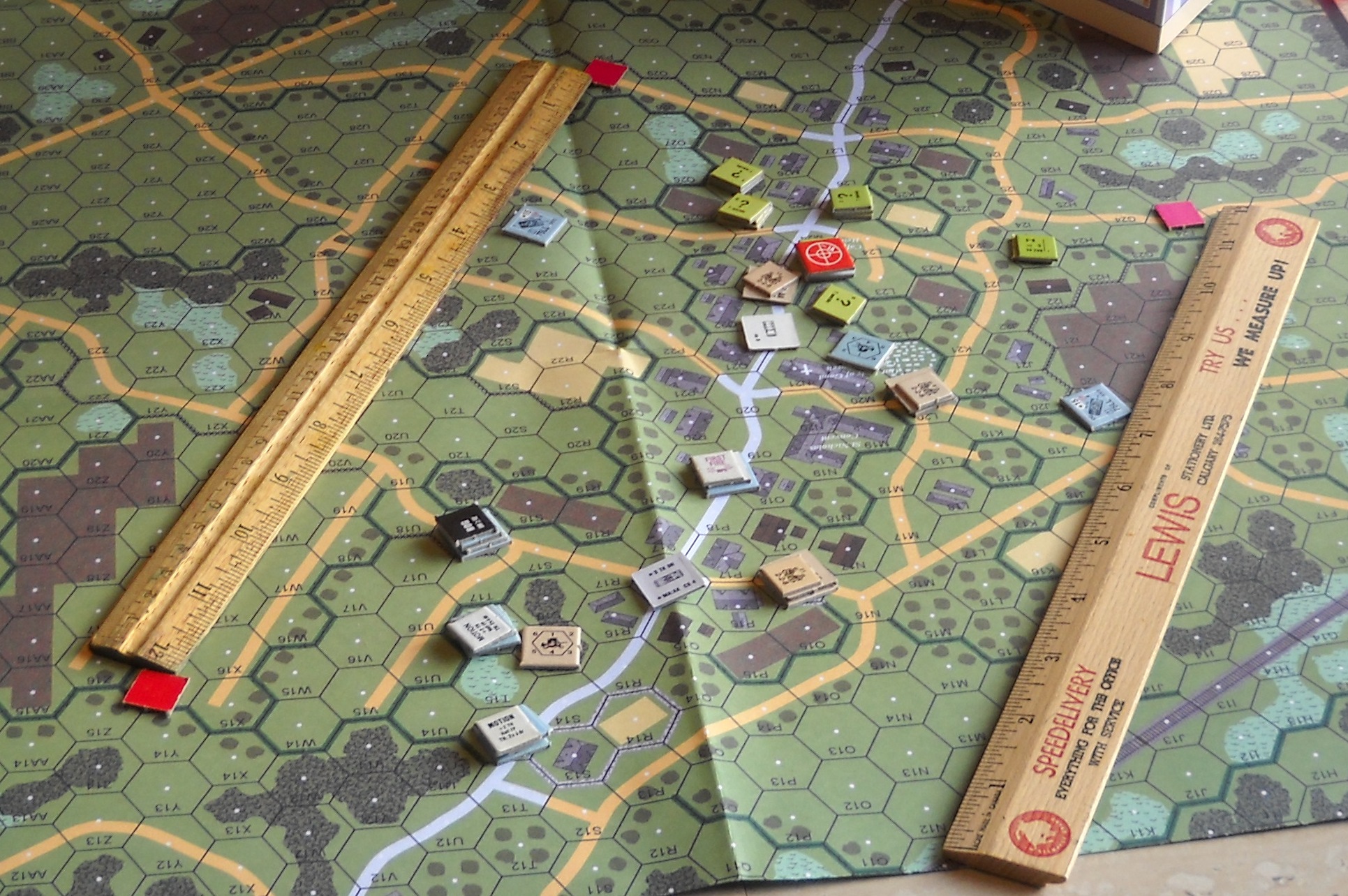 Playing area marked out with rulers.

Statistics:
Avg Rating: 6.20
Votes: 5
Views:
1190
To-Play list count:
0
Estimated Play time:
2.5 hours
Recorded Games:
3

Archive recorded plays:
German
0
American/British
3
Drawn:
0

ROAR Data: (as of April 2021)
A Fine Spot for Tea
[Log in to Confirm or Edit]