Air Assault on Drvar ETO (id:#60132)
Designer: Tom Morin
Starter kit scenario?: Deluxe scenario?:
No balance information available

Overview:
The German high command devised a plan to eliminate Josef Broz Tito, the commander of the Partisan forces in Yugoslavia. Code named Operation Rösselsprung (Knight's Move), the plan involved a combined paratroop and glider assault by an SS Parachute Battalion on Tito's HQ located at Drvar. The main objective was to attack Tito's cave and kill or capture him. Other objectives were to eliminate the attached Allied Missions (American, British and Soviet) located in Drvar, and to disrupt the Partisan communication network by destroying the telephone exchange building and the radio station. Upon completion of their tasks, the SS Paratroops were to await relief by ground forces that were to cordon off the area. The Partisan leadership had been well informed ahead of time of the German plans for ground operations around Drvar, but they were totally unaware of the impending airborne assault.

Attacker: German (SS) (SS Fallschirmjäger Bataillon 500: Glider Groups Dranfänger, Greifer, Stürmer, Brecher and Beisser/Glider Group Panther/Parachute Group Rybka)

Defender: Partisans (Yugoslavian Army of National Liberation: Tito's Escort Battalion/HQ Personel/Officer Cadets/3rd "Lika" Brigade, 6th Proletarian Division)
7 turns
Players:
2
OBA:
None
Night:
No
Unit Counts:
Squads: A:

28.0

D:

36.0
AFVs: A:0
AFVs: D:0
Guns: A:1 D:2

OQF 40mm AA

OML 3-in. Mortar

M2 60mm Mortar
| | |
| --- | --- |
| Misc Rules: | Building wQ6 represents Tito's "cave" and has a TEM of +4. w A: Paradrop |
Errata (source)
Players wanting to play this game/Request a match:
Scenario info
| Action | Date |
| --- | --- |
| hoxson1 Modified the misc. rules | 2017-12-11 19:51:10 |
| hoxson1 Uploaded an Image | 2017-12-11 19:49:29 |
| hoxson1 Uploaded the Board image | 2017-12-11 19:48:51 |
| hoxson1 Uploaded the Board image | 2016-06-12 18:33:29 |
| hoxson1 Uploaded an Image | 2016-06-12 18:29:49 |
Location
Not found
Images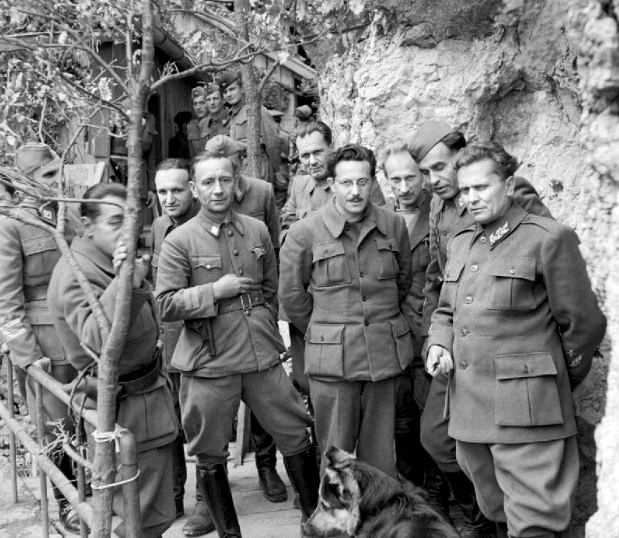 Tito and his officers in his cave complex. Tito is on far right.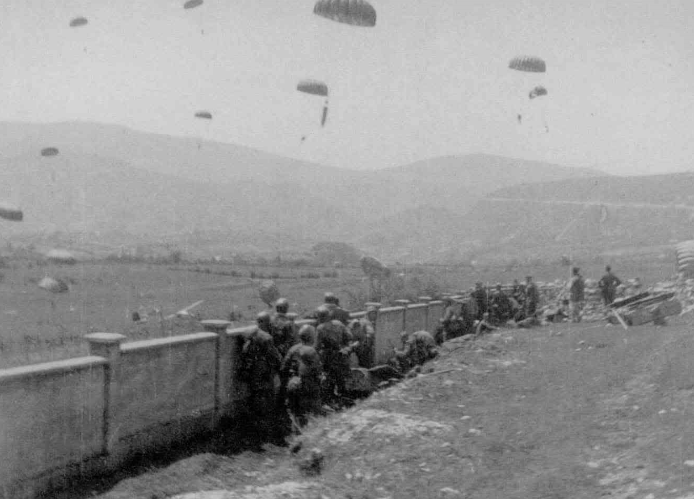 Statistics:
Avg Rating: n/a
Votes: 0
Views:
1784
To-Play list count:
1
Estimated Play time:
10.8 hours
Recorded Games:
0

Archive recorded plays:
German (SS)
0
Partisans
0
Drawn:
0

ROAR Data: (as of November 2021)
Air Assault on Drvar
[Log in to Confirm or Edit]

| | |
| --- | --- |
| [A] Partisan | 0 |
| [D] German | 0 |