La Riposte Vaine ETO (id:#63118)
Sainte Pierremont, France
1940-05-17
(
22 others
)
Designer: Evan E. Sherry
Starter kit scenario?: Deluxe scenario?:
Balance:

Overview:
Kirchner's 1st Panzer Division was advancing west from Moncoronet when Generaloberst von Runstedt established a temporary halt line for all German units. Von Runstedt was concerned that the overextended southern flank was an invitation for an enemy counterattack. Colonel Charles de Gaulle saw this as well and quickly improvised the French riposte with his 4eme Division Cuirassee. He sent elements of two tank battalions to counterattack Saint Pierremont. Here, the 37th Pioneer Battalion occupied hasty defensive positions at the Serre River bridge and a smaller bridge to the north.

Attacker: French (Elements of 345e Compagnie Autonome de Chars and 36e Bataillon de Chars de Combat, 4eem Divisino Cuirassee and 4e Bataillon de Chasseurs Portes, 4eme Division Cuirassee)

Defender: German (Elements of Pioneer Bataillon 37, Panzer Division 1 and Schutzenregiment 1, Schutzen Brigade 1, Panzer Division 1)
5.5 turns
Players:
2
OBA:
None
Night:
No
Unit Counts:
Squads: A:

11.0

D:

12.5
AFVs: A:4
AFVs: D:0
Guns: A:0 D:0
| | |
| --- | --- |
| Misc Rules: | Stream X1-U10 is deep; St1 stream is shallow. D: Assault engineers |
Errata (source)
Players wanting to play this game/Request a match:
Scenario info
Last Played:
Date
Reporter
Opponent
Result
Comments
2020-04-16
(D) Gordon Jupp
vs
Derek Cox
French win
This is tough for the German! Only lasted until the last turn due to a HOB result on a brokie which rallied him and created a hero...the French gained the 2nd building on the last CC but in reality they probably should have got their earlier.

As another reporter has mentioned the German reinforcements are very prone to bad interdiction before they can get seriously involved BUT it is an interesting scenario :)
2018-01-19
(D) X von Marwitz
vs
Michael Koch
French win
An early war action pitting a tough French force of well led infantry and almost impenetrable tanks against a German pure infantry force. The onboard German force consists mostly of 468 Assault Engineers, but their setup position might be potentially precarious with regard to the French onslaught. One asset the German position does have is that the French MUST cross a single bridge across an (SSR'ed) deep river. They are massively outnumbered and outgunned, though. The Germans do receive reinforcements that enter during German turn 1, but these will only be able to affect the game during turn 3. It is of the utmost importance, that these reinforcements don't waste any time (even against risks) to get forward.
I played the Germans in this one and set my onboard force north of the river hoping to slow the French at the bottleneck of the bridge more than by setting up south of the bridge and threatening their approach. The early turns might be a bit frustrating for the Germans, as they will be without doubt on the receiving end.
If the French manage to batter the original onboard force before the German reinforcements can effectively support them, then it will be very hard to push the French back to regain control of lost Buildings. At the same time, if the French don't make it across the river by in turn 3 or turn 4 at the latest to meet their objective, then they will be in dire straights.
While this scnenario presents an interesting tactical situation, it might be more fun to play as the French. The small German onboard force will be pummeled and it just takes time for the German reinforcements to (possibly) become effective.
In my game, the FT did not manage to get off a single shot. The German reinforcements were sorely battered when emerging from the Stream (to which there appears to be little alternative).
Towards the end of the MPh of German turn 4, it became obvious, that the Germans would have no chance to make it, so I conceded.
2018-01-10
(D) Dave Mareske
vs
Dan Best
French win
I set my initial force south of the river and they all were eliminated for their efforts without slowing the French down much. Good DRs by Dan, average to bad by me.
2018-01-10
(A) Dan Best
vs
Dave Mareske
French win
| Action | Date |
| --- | --- |
| hoxson1 Linked the scenario to ROAR | 2022-03-07 17:40:39 |
| von_meyer Added a playing | 2020-04-19 16:59:59 |
| hoxson1 Modified the overview | 2019-10-05 20:06:41 |
| hoxson1 Uploaded an Image | 2019-10-05 19:56:36 |
| hoxson1 Modified the misc. rules | 2019-10-05 19:46:57 |
Location
Images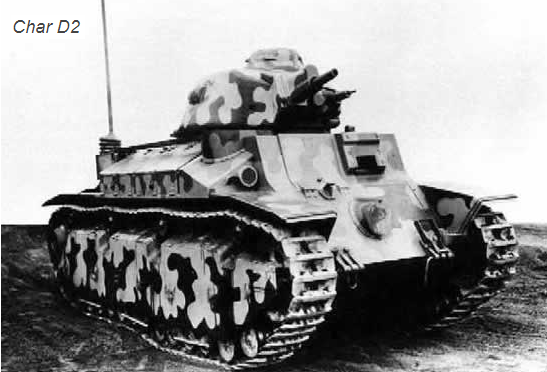 The D2, a medium tank with decent armor and a 47mm gun, was designed for a role previously filled by cavalry, carrying out extended reconnaissance and avoiding pitched battles. The reality of war showed that this was not what tanks were needed for.
Statistics:
Avg Rating: 6.75
Votes: 4
Views:
1896
To-Play list count:
0
Estimated Play time:
3.8 hours
Recorded Games:
3

Archive recorded plays:
French
3
German
0
Drawn:
0

ROAR Data: (as of November 2021)
La Riposte Vaine [Confirmed]