White Tigers CBI (id:#61921)
Prior Publication: AH:ASL Annual `92
See Also: White Tigers by Avalon Hill White Tigers, Black Cats by Critical Hit White Tigers by Multi-Man Publishing

Designer: Pat Jonke

Starter kit scenario?: Deluxe scenario?:
Balance:

Overview:
In early March, the Japanese 15th Army launched Operation U-GO to capture the highland town of Imphal, a vital British base in Assam. As part of the offensive, Lt.-General Yanagida's veteran 33rd Infantry Division, known as the "White Tigers", attacked north along the Tiddim Road. By mid-April its advance had ground to a halt about twenty miles from Imphal, where for the next few weeks it exchanged blows with the 17th Indian Division over possession of several villages along the road. One of these, Ningthoukhong, changed hands twice as both sides committed armor over ground now saturated by the breaking monsoon rains. On June 7th, the Japanese threw the last of their tanks into the battle for the village.

Attacker: Japanese (33rd Infantry Division and 14th Tank Regiment)

Defender: Gurkha (British) (1/7th Gurkha Rifles and 1/7th Gurkha Reinforcements)
10 turns
Players:
2
OBA:
None
Night:
No
Unit Counts:
Squads: A:

21.0

D:

20.0
AFVs: A:5
AFVs: D:0
Guns: A:0

Type 89 Heavy Grenade-Launcher

x 4

D:2

OQF 2-Pounder

x 2

OML 2-in. Mortar

x 2
| | |
| --- | --- |
| Misc Rules: | PTO, DJ. Rubbled buildings. Mud, Rain, Ov5 |
Errata (source)
Players wanting to play this game/Request a match:
Scenario info
Last Played:
Date
Reporter
Opponent
Bal.
Result
Comments
2021-09-28
(A) Jeff B
vs
Joe Arthur
Gurkha (British) win
Brits setup literally everything they had north of the stream. Considering there were only three ways to cross (only one of which was much good) this was going to be extremely tough. Add in the mud and all the rubble and moving without a leader on anything other than road would be problematic. Turn 3 saw the first tank fried as it crossed the bridge. This was to be expected, but a necessary sacrifice to provide some cover for the infantry. Two more would be lost the next turn doing the same, and one more the following turn. The jungle on that side of the stream would prove to be a tough nut to crack, and it wasn't until Turn 7 that I captured both near buildings on that side. In retrospect I probably should've used one of those last tanks to pair with my last one that was making for the eastern ford. As it was, par for the course for me, I could not pass a TC to non-platoon move. This is probably what cost me most in the end. With the Gurkha reinforcements able to pour on unchecked, the already stout defense got even tougher. It was almost a foregone conclusion that I didn't stand a chance, but I sent banzai after banzai on the last turn to try and take the last building needed. In the end I had two GO HS remaining. 15 hours spent on a completely anticipated result was probably not the ideal use of my time.
2020-10-16
(A) Tom Kearney
vs
Alan Saltzman
Japanese win
Close game that went down to the last turn.
2019-05-28
(D) Will Willow
vs
Fred Schwarz
Japanese win
VASL
2018-12-16
(A) Tom Abromaitis
vs
Gurkha (British) win
2018-01-06
(A) John Gorkowski
vs
John Staddick
Gurkha (British) win
All Japanese forces – 21 squads and five tanks – sloshed across the southern map edge on turn 1. A steady rain impaired visibility beyond about 250 meters while occasional heaps of rubble and dense jungle severely constrained lines of sight.

On the Japanese left, a single platoon and a stack of dummies leap-frogged through jungle, palm, and kunai to close in on the western ford (1 of 3 crossing points) across the swollen stream. They exchanged fire with a British platoon and swept it aside to cross the creek and seize the temple by about turn 6.

In the center, the Japanese armor at first avoided the road since they knew it would be bore sighted by every tube in the British inventory, and it was. Meanwhile, Japanese infantry approached cautiously expecting to charge when the armor was ready to lead. Around mid-game, one tank did rush the span where a British 40mm anti-tank gun blew it to flaming smithereens (as expected). British machine guns cut down the squad or two that tried to crawl forward through the resulting smoke. An attempt to get a second tank in there failed when it immobilized in the mud. Meanwhile, Japanese troops lobbed mortar rounds over the central bridge to try and pick off that British anti-tank gun and two medium machine guns posted nearby in the jungle just west of the road. The Japanese snipper chimed in to clobber the key British machine gun position leaving only one fire line in operation. With that, three or four Japanese squads, one at a time, doubled-timed across the bridge to take the two multi-hex buildings just west of the stream.

On the Japanese right, an armor-infantry team, including the three Japanese medium machine guns, tag teamed to wipe out several Gurkha squads and capture seven multi hex buildings. The machine guns "encouraged" the Gurkhas to retreat, rather than join a firefight, while a combination of vehicle sleaze freeze and hand to hand combat enabled a rapid Japanese advance at acceptable cost – in infantry. All that muddy driving bogged, then mired, and eventually immobilized two Japanese tanks. The Japanese medium machine guns, led by a 10-1, eventually planted themselves in wooden rubble at mid board just east of the stream and started raking British positions across the water to facilitate the advance over the central bridge. They were red-lined during the gun battles that followed, but survived the scenario.

As the end game approached, Japan controlled nine buildings and so needed only one more for the win. But by now the British reinforcements were taking up positions in buildings just north of the eastern ford. A concealed Gurkha 8-0 ambushed and then defeated in hand to hand combat a full Japanese squad as it tried to secure the building just south of that last ford. The Japanese went on to cross at great cost. In one instance, snake eyes from a British heavy vaporized a 9-1 and two red-lined squads each armed with light machine guns. A 40mm anti-tank gun took down another Japanese tank. Japanese efforts to advance up the center foundered in lopsided firefights. On the left, an 8-0 and one squad bolted into the paddies to try and outflank the British to swing around and capture an empty building, but defense fire pinned that squad and sealed the British victory! If only he had red-lined instead.

| Action | Date |
| --- | --- |
| buser333 Added a playing | 2021-09-28 19:28:13 |
| Tomkrny Added a playing | 2020-11-25 06:45:22 |
| wwillow Added a playing | 2020-07-14 11:43:03 |
| gorkowskij Rated the scenario | 2020-05-17 11:47:56 |
| gorkowskij Added a playing | 2020-05-17 11:46:39 |
Location
Not found
Images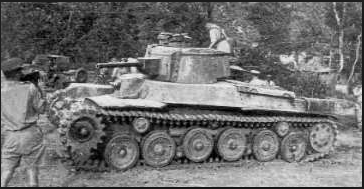 14th Tank Regiment's Shinhoto Chi-Ha captured near Imphal
Statistics:
Avg Rating: 7.62
Votes: 13
Views:
4443
To-Play list count:
5
Estimated Play time:
11.9 hours
Recorded Games:
6

Archive recorded plays:
Japanese
3
Gurkha (British)
3
Drawn:
0

ROAR Data: (as of November 2021)
White Tigers [Confirmed]

| | |
| --- | --- |
| [A] Japanese | 5 |
| [D] Gurkha | 8 |